The tango nuevo movement by Astor Piazzolla launched the tremendous tango-revival in Europe. The less known tradition of urban dance music that inspired Piazzolla is the driving force of Tango 02, a Brussels tango orchestra which takes the audience and the dancer to explore the well-rooted rythms of the legendary D'Arienzo, Di Sarli and others.
The Orquesta Típica Tango 02 exists in its present form since 2003 during which period a repertoire of traditional and contemporary tangos, milongas and waltzes was established.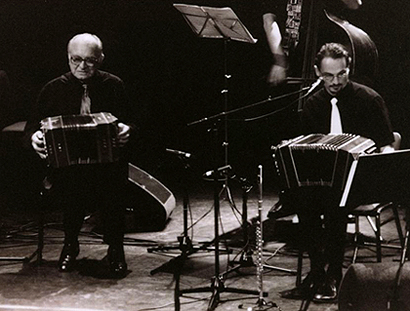 Tango 02's founder, artistic director and bandoneon player, Pato Lorente (Patrick Vankeirsbilck), learned the ropes and handles of the tango music from Alfredo Marcucci, the famous Argentine bandoneon master who was living in Flanders and with whom Pato played hundreds of concerts throughout Europe since 1995 up to 2009. He also studied in Buenos Aires with the Masters Julio Pane and Carlos Pazo. The authentic character of Tango 02 is due to these masters.
Also Juan José Mosalini (Paris) and Roberto Alvarez, both former bandoneon players in the orchestra of the legendary Osvaldo Pugliese, influenced the orchestra. In addition to their thorough training as a musician, members of Tango 02 followed master classes in performing tango music with Alfredo Marcucci or studied in Buenos Aires.
Tango 02 is the only Belgian band that builds its entire repertoire using the bisonoric Rheinische bandoneon, the type of instrument that is most commonly used in the Rio de la Plata area (Buenos Aires - Montevideo).
Besides numerous performances for a dancing audience, the Orquesta Típica Tango 02 played a number of notable concerts including a concert in 2005 in Bornem (B), a concert in Terneuzen (NL) during the Flying Dutchman Festival in 2006, a concert in the Open Air Theater Valkenburg (NL) in 2010 and a highly appreciated concert in Muiden (NL) in 2011. Tango 02 is also a regular guest at the Benenwerk Festival in Bruges (B) and in the summer program of the City of Ostend (B). The orchestra was heard repeatedly at OdeGand, the opening day of the prestigious Festival of Flanders in Ghent and Tango 02 was also on stage in Nîmes (F), Strasbourg (F) and performed several times in Metz (F).
A subset of the group toured in Indonesia and Singapore in 2011 and the band won the Dutch "Choclo" composition prize for their new danceable works in 2012.